Supporting Neighbors During the Holiday Season
December 2020 – Premier Health Solutions initiated its third food drive to support neighbors in need and made a financial contribution to benefit Frisco Family Services. Employees worked together to bring in condiments, personal hygiene products, and other pantry staples to donate to the Feed Frisco program managed by Frisco Family Services.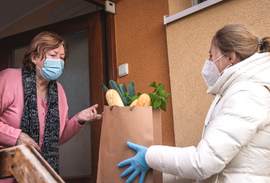 The Covid-19 pandemic has affected many families in the Frisco community. Many displaced families or families who have lost their income due to the pandemic have relied on local shelters and resources, exhausting many local food banks. Feed Frisco reached out to local businesses and individuals to help support neighbors with the growing need for supplies.
"We recognized that so many local families have been impacted by the ongoing effects of Covid-19, and we want to be a partner in helping our community meet those needs, whether by gathering donations or providing some financial support," said Alyssa Johnson, Vice President of Operations.
For more information on the Feed Frisco program or Frisco Family Services, visit their website here.